Health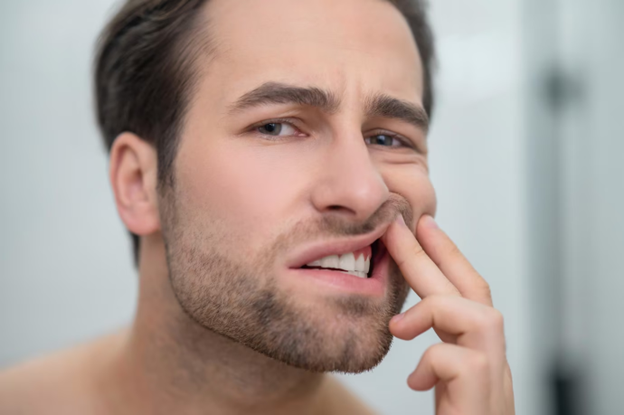 Natural Ways to Tackle Gingivitis: Home Remedies for Healthy Gums
Read Time:
4 Minute, 58 Second
Introduction
Are you tired of dealing with painful, swollen gums? Do you dread going to the dentist for every little oral health issue? Well, worry no more! In this blog post, we will explore natural ways to tackle gingivitis and provide you with effective home remedies for healthy gums. Say goodbye to expensive dental treatments and hello to a radiant smile that shines from within. 
What is Gingivitis?
Gingivitis, also known as gum inflammation, is a common oral health condition that affects the gums surrounding the teeth. It occurs when plaque, a sticky film of bacteria and food particles, builds up along the gum line. This buildup triggers an immune response from the body, causing redness, swelling, and tenderness in the gums. Gingivitis can develop into more serious types of gum disease and possibly result in tooth loss if left untreated. Therefore, it's critical to spot the warning signs and symptoms as soon as possible. The first indication of gingivitis is often bleeding gums during brushing or flossing. 
Symptoms of Gingivitis:
Gingivitis is the early stage of gum disease, and it's important to recognize its symptoms so you can take action promptly. Here are some signs that may indicate you have gingivitis:
Bleeding Gums:

One of the most common symptoms is noticing blood when you brush or floss your teeth. Healthy gums should not bleed during regular oral care.
Swollen or Red Gums:

If your gums appear swollen, puffy, or irritated, it could be a sign of gingivitis. Additionally, they may appear redder than usual.
Bad Breath:

Persistent bad breath (halitosis) can be an indication of gum disease, as bacteria in the mouth cause foul odors.
Receding Gumline:

As gingivitis progresses, you might notice that your gum line starts to recede, making your teeth look longer.
Tender Gums:

Gingivitis often causes tenderness and sensitivity in the gums when touched or while eating certain foods.
Causes of Gingivitis
Poor Oral Hygiene:

Poor oral hygiene is often the main culprit behind gingivitis. When we neglect to brush and floss regularly, plaque builds up on our teeth and along the gumline. This sticky film contains bacteria that irritate the gums, leading to inflammation.
Hormonal Changes:

Another common cause of gingivitis is hormonal changes, particularly during pregnancy or puberty. These shifts in hormones can make gums more sensitive and prone to inflammation.
Certain Medications:

Certain medications, such as anticonvulsants and calcium channel blockers, may also increase the risk of developing gingivitis. These drugs can affect saliva production and create an environment conducive to bacterial growth.
Smoking Cigarettes or Using Other Tobacco Products:

Smoking cigarettes or using other tobacco products significantly raises your chances of developing gum disease. The harmful chemicals in tobacco weaken the immune system's ability to fight off infection, making it easier for bacteria to thrive in your mouth.
Home Remedies for Treating Gingivitis
Gingivitis, a common oral health issue, can cause discomfort and lead to more serious gum diseases if left untreated. How to cure gum disease without a dentist, is a crucial task. Fortunately, there are several natural remedies you can try at home to help alleviate the symptoms and promote healthy gums.
Saltwater Rinses:

One effective remedy is saltwater rinses. Warm water with half a teaspoon of salt added should be swished around the mouth for 30 seconds before being spat out.  This saline solution helps reduce inflammation and kill bacteria.
Oil Pulling with Coconut:

Another option is oil pulling with coconut or sesame oil. Swishing a tablespoon of oil in your mouth for 15-20 minutes each day can help remove plaque and improve gum health.
Aloe Vera Gel:

Aloe vera gel, known for its soothing properties, can be applied directly to the affected area to reduce inflammation and promote healing. Be sure to use pure aloe vera gel without any added sugars or chemicals.
Tea tree oil:

Tea tree oil has antimicrobial properties that make it useful for fighting gingivitis-causing bacteria. You can dilute tea tree oil with water or carrier oils like coconut oil and apply it directly on your gums using a soft toothbrush or cotton swab.
Green tea:

Green tea contains antioxidants that help fight inflammation and reduce the risk of gum disease. Drinking green tea regularly may contribute to healthier gums.
Foods to Eat and Avoid to Improve Oral Health
The food we eat plays a crucial role in the overall health of our gums and teeth. By making smart choices about what we consume, we can significantly improve our oral health and prevent gum diseases like gingivitis.
Fresh Fruits and Vegetables:

To promote healthy gums, it's important to include certain foods in our diet. Fresh fruits and vegetables are excellent options as they are high in vitamins and minerals that strengthen gum tissue. Citrus fruits like oranges, strawberries, and kiwi are particularly beneficial due to their high vitamin C content.
Adding Crunchy Foods:

Adding crunchy foods like apples, carrots, celery, and nuts can also help stimulate saliva production which helps neutralize acids in the mouth. Additionally, incorporating probiotic-rich foods such as yogurt and kefir into your diet can support a healthy balance of bacteria in your mouth.
Also Read: Straighten Your Smile with Palate Expanders: Everything You Need to Know
Conclusion
Gum health is essential for good dental health generally. Gingivitis, the early stage of gum disease, can be effectively treated and prevented with natural remedies and lifestyle changes. By following a proper oral hygiene routine and incorporating home remedies into your daily routine, you can combat gingivitis without needing to visit a dentist. These natural methods not only help alleviate symptoms but also promote healthier gums in the long run. Use a soft-bristled toothbrush and fluoridated toothpaste to brush your teeth at least twice per day. Daily flossing aids in removing plaque from the spaces between your teeth and from the gum line.