Health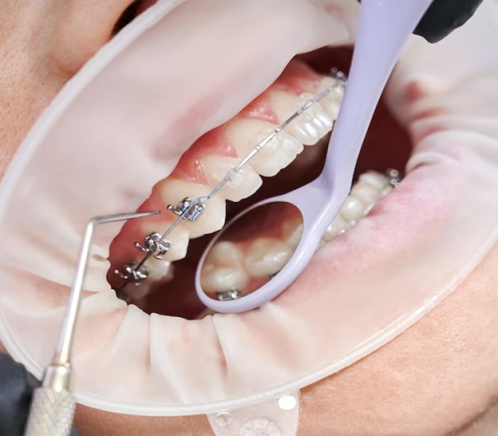 Straighten Your Smile with Palate Expanders: Everything You Need to Know
Read Time:
5 Minute, 3 Second
Introduction to Palate Expanders
Are you looking to achieve that perfect, straight smile? Well, look no further! Introducing palate expanders – the secret weapon in orthodontics that can help transform your crooked or overcrowded teeth into a beautiful and symmetrical set. Whether you're an adolescent seeking early intervention or an adult hoping to correct long-standing dental issues, palate expanders offer a non-invasive and effective solution. In this comprehensive guide, we'll dive deep into everything you need to know about palate expanders. From understanding their benefits and usage techniques to weighing the pros and cons, we've got you covered. 
Benefits of Using a Palatal Expander
Are you tired of living with crooked teeth and a misaligned bite? Look no further than the palatal expander! This remarkable orthodontic tool can work wonders in straightening your smile and improving the overall functionality of your mouth.
Ability to Widen the Upper Jaw:

One of the key benefits of using a

palatal expander

is its ability to widen the upper jaw. Gradually widening the palate, creates more space for crowded or overlapping teeth to align properly. This not only improves their appearance but also enhances chewing efficiency and promotes better oral health.
Correct Crossbites:

Another advantage is that palatal expanders can help correct crossbites. A crossbite occurs when some teeth are positioned closer to the cheek or tongue than their corresponding lower teeth. With regular use, a palatal expander can help shift these misaligned teeth into their proper positions, restoring balance to your bite.
Relatively Simple and Painless:

Using a palatal expander is relatively simple and painless. Your orthodontist will custom-fit this device to comfortably fit inside your mouth. You'll be instructed on how to activate it by turning an adjustment screw at home, usually once or twice daily for several weeks or months.
How to Use a Palatal Expander
Using a palatal expander may seem daunting at first, but with proper guidance and practice, it can become a seamless part of your orthodontic treatment. Here's a step-by-step guide on how to use a palatal expander. Ensure that you thoroughly clean your mouth before inserting the expander. It's essential to maintain good oral hygiene throughout the treatment process. Next, carefully place the expander in your mouth according to your orthodontist's instructions. Remember to follow any specific guidelines they provide for turning or adjusting the device. Once inserted correctly, gently activate the expansion mechanism as directed by your orthodontist. This typically involves using either a key or screwdriver-like tool provided with the appliance. It is crucial to be gentle while activating the expander to avoid causing discomfort or damage. Regularly check and adjust the expansion device according to your dentist's recommendations.
Pros and Cons of Palate Expansion
When it comes to achieving a straighter smile, palate expanders can be an effective tool. However, like any dental procedure, there are both pros and cons to consider before deciding if this treatment is right for you.
Pros: 
Help Correct Issues Such as Overcrowding:

One major benefit of palate expansion is that it can help correct issues such as overcrowding or crossbites. By widening the arch of your upper jaw, a palatal expander creates more space for your teeth to align properly. This not only improves the appearance of your smile but also promotes better oral health by reducing the risk of tooth decay and gum disease.
Often be Performed at a Younger Age:

Another advantage is that palate expansion can often be performed at a younger age when the bones in the skull are still growing. This means that children who undergo this treatment may achieve more significant results compared to adults.
Cons:
Temporary Discomfort or Soreness in the Mouth:

However, it's important to note that there are potential downsides as well. One common side effect of palate expansion is temporary discomfort or soreness in the mouth. This discomfort typically subsides within a few days or weeks as you adjust to wearing the expander.
Experience Difficulty Speaking or Swallowing:

In some cases, patients may also experience difficulty speaking or swallowing initially while wearing a palatal expander. However, with practice and time, these challenges usually improve as well.
Common Side Effects of Palatal Expansion
Palatal expansion is a common orthodontic treatment used to correct issues with the upper jaw and create more space for teeth. While it can be an effective solution, like any medical procedure, there may be potential side effects to consider.
Increase Saliva Production:

One side effect that some people may experience is increased saliva production. The presence of a palatal expander in the mouth can stimulate salivary glands, leading to excess saliva. While this may be slightly inconvenient, it typically resolves on its own over time.
Develop Speech Difficulties:

In rare cases, patients may also develop speech difficulties during the initial adjustment period. This can include lisping or difficulty pronouncing certain sounds due to changes in oral anatomy. However, with practice and patience, most individuals adapt and regain normal speech patterns.
It's important to note that these side effects are generally mild and temporary. Orthodontists closely monitor patients throughout treatment to ensure any discomfort is managed effectively. By understanding these potential side effects before undergoing palatal expansion treatment, you can make an informed decision about whether this orthodontic option is right for you.
Also Read: Wisdom Teeth Stitches: What You Need to Know for a Smooth Recovery
Conclusion
Palate expanders are a highly effective tool for straightening your smile and correcting issues related to narrow palates. By gently widening the arch of your upper jaw, these devices can create more space for crowded teeth, improve breathing and speaking abilities, and enhance overall facial symmetry. While there are some pros and cons to consider when using a palatal expander, it is important to consult with an orthodontist who can assess your specific needs and determine if this treatment is right for you. They will guide you through the process of fitting and adjusting the device to ensure optimal results.