Health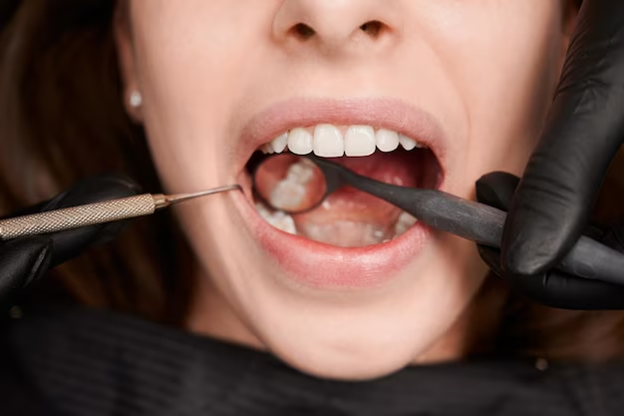 Wisdom Teeth Stitches: What You Need to Know for a Smooth Recovery
Read Time:
5 Minute, 0 Second
Introduction to Wisdom Teeth Stitches
Are you about to undergo wisdom teeth extraction? If so, you might be unsure of what to anticipate during the healing process. One important aspect of recovering from wisdom teeth removal is understanding the role of stitches in promoting a smooth healing process. We'll go over all there is to know about wisdom teeth stitches in this blog post, including how they can aid in a speedy recovery. From the reasons why stitches may be necessary to tips on caring for them, we've got you covered.
What Causes the Need for Wisdom Teeth Stitches?
When it comes to wisdom teeth, many people find themselves needing stitches after their extraction. But what exactly causes the need for these stitches?
Don't Have Enough Room to Fully Emerge or Grow:

Impacted wisdom teeth are a major culprit. When these third molars don't have enough room to fully emerge or grow in proper alignment, they can become trapped beneath your gums. This leads to painful swelling and infection, often requiring surgical removal.
Make Incisions in the Gum Tissue to Access and Remove the Impacted Tooth:

During the extraction procedure itself, your dentist or oral surgeon may need to make incisions in the gum tissue to access and remove the impacted tooth. These incisions leave open wounds that require sutures or stitches for proper healing.
Any Damage Done During the Extraction Process:

In addition, if there was any damage done during the extraction process – such as a fractured jawbone or nearby tooth – sutures may be needed to repair and stabilize those areas.
Bleeding Disorders can Increase the Likelihood of Needing Stitches:

Furthermore, certain medical conditions like bleeding disorders can increase the likelihood of needing stitches after wisdom teeth removal. Your healthcare provider will assess your situation and determine if stitches are necessary based on factors like age, oral health status, and overall wellness.
Overall, the need for wisdom teeth stitches is typically dependent on factors such as impaction severity and any complications that arise during the extraction process. It's important to follow post-operative care instructions provided by your dental professional to promote optimal healing.
Benefits of Getting Wisdom Teeth Stitches
Help to Control Bleeding:

Wisdom teeth stitches

help to control bleeding after the extraction procedure. By suturing the surgical site, the blood vessels are sealed off, minimizing the risk of excessive bleeding. This helps in reducing discomfort and further complications.
Reduces the Chances of Infection:

Stitches promote faster healing by holding the tissues together. They provide support to the gums and jawbone as they heal, allowing for proper alignment of tissue layers. This reduces the chances of infection and promotes better wound healing.
Prevent Food Particles from Accumulating in Open Sockets or Gaps:

Additionally, getting wisdom teeth stitches can prevent food particles from accumulating in open sockets or gaps left behind after extraction. The presence of sutures acts as a barrier, preventing debris from entering these spaces and potentially causing infection or other oral health issues.
Less Chance of Developing a Dry Socket:

Moreover, with well-placed sutures, there is less chance of developing a dry socket, a painful condition where the blood clot that forms after tooth extraction becomes dislodged or dissolves prematurely.
How to Care for Wisdom Teeth Stitches
Follow Post-operative Instructions:

Your dentist will provide specific instructions on how to care for your stitches. It's crucial to carefully adhere to these instructions.
Keep the Area Clean:

Gently rinse your mouth with warm saltwater every few hours, especially after meals, to keep the area clean and free from bacteria.
Avoid Touching or Pulling at the Stitches:

Refrain from poking or prodding the stitched area with your tongue or fingers, as this can disrupt the healing process.
Stick to Soft Foods:

Opt for a soft food diet in the first few days following surgery. Foods like soups, mashed potatoes, yogurt, and smoothies are ideal choices that won't irritate or damage the stitches.
Take Pain Medication as Prescribed:

If you experience discomfort or pain after surgery, take any prescribed pain medication according to your dentist's instructions.
Apply Ice Packs:

To reduce swelling and alleviate any discomfort around the surgical site, apply ice packs gently on your cheeks for short intervals.
What to Expect After Getting Wisdom Teeth Stitches
Swelling and Discomfort:

It's normal to have swelling and discomfort in the first few days after surgery. Applying ice packs can help reduce swelling, while over-the-counter pain medication prescribed by your dentist can provide relief.
Bleeding:

Some bleeding is expected after the procedure, but it should gradually decrease over time. Bite down on gauze pads or tea bags to help control any excessive bleeding.
Limited Jaw Movement:

You may experience difficulty opening your mouth wide for a few days due to post-operative trauma and swelling. Stick to soft foods and avoid chewing on the surgical site until it heals.
Dissolvable Stitches:

In most cases, dissolvable stitches are used for wisdom tooth extraction, eliminating the need for removal later on.
Follow-up Appointments:

Your dentist will schedule follow-up appointments to monitor your healing progress and remove any remaining sutures if necessary.
Also Read: Unlock Your Movie Fantasies! Experience Unforgettable Cinema Moments with moviesflix.in!
Conclusion
Wisdom teeth stitches play a crucial role in promoting a smooth recovery after the extraction of your wisdom teeth. They help to control bleeding, reduce the risk of infection, and promote proper healing. By following the post-operative care instructions provided by your dentist and adopting good oral hygiene practices, you can ensure that your stitches heal properly. Keep your mouth clean by gently rinsing with salt water or an antiseptic mouthwash. Avoid consuming hot or spicy foods for a few days and stick to soft foods that are easy to chew. Be gentle when brushing around the stitched area and avoid strenuous activities that could dislodge or damage the stitches.