Technology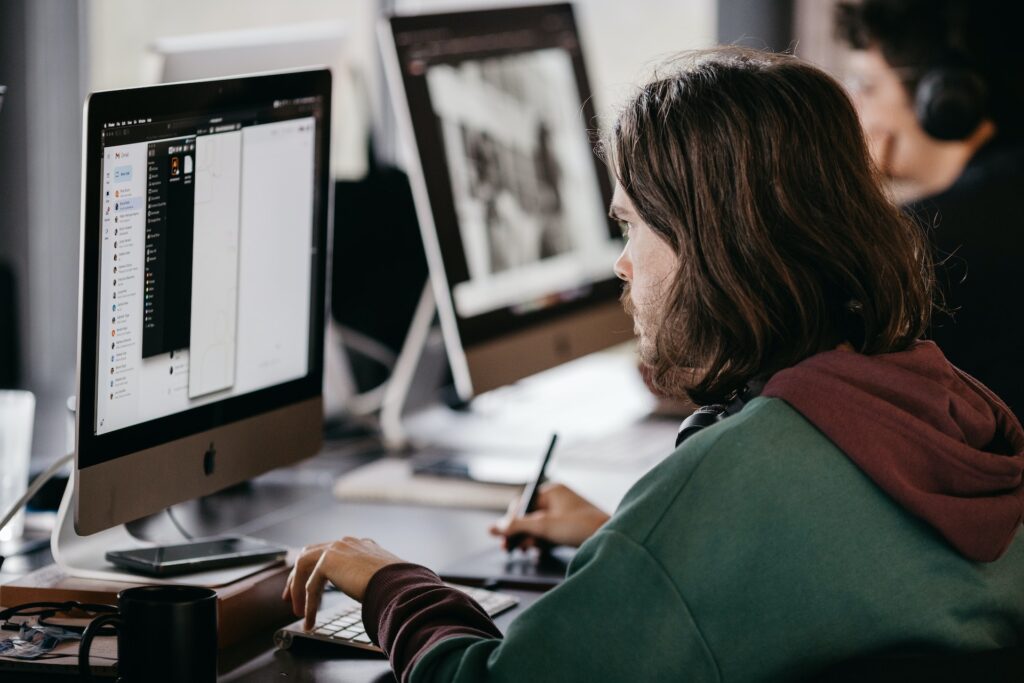 The Future of Work: Touchscreen Desktops are Here!
Read Time:
4 Minute, 48 Second
The future of work is here, and it's incorporating more technology than ever before. From touchscreen desktops to virtual reality headsets, workplaces around the world are becoming increasingly digitized. This innovation can help create a better experience for employees, increase productivity, and improve collaboration. In this blog post, we'll explore the various ways that businesses are leveraging technology to make the workplace more efficient and enjoyable for all. From touchscreen desktops to virtual reality headsets, you'll learn how these emerging technologies are transforming the way we work
Touchscreen Desktops
We've all become accustomed to using touchscreen devices like smartphones and tablets, but what about using a touchscreen desktop? It may sound strange at first, but touchscreen desktops are becoming more and more popular as we move into the future of work.
There are many benefits to using a touchscreen desktop. For one, it can help to increase productivity as you'll be able to quickly access the information and tools you need with just a few taps. Additionally, touchscreen desktops can also help to reduce paper waste as you'll be able to electronically sign documents and fill out forms.
If you're looking for a cutting-edge way to do your work, then a touchscreen desktop is definitely worth considering!
How Touchscreen Desktops Work
Touchscreen desktops are the future of computing because they provide a more natural and interactive experience. Users can simply touch the screen to perform actions, instead of using a mouse or keyboard. This makes touchscreen desktops more user-friendly and efficient.
How do touchscreen desktops work? The technology behind touchscreen desktops is called capacitive sensing. This technology uses an electrostatic field to sense when a finger or stylus touches the screen. When you touch the screen, the electrostatic field is disturbed, which causes a change in capacitance. This change is detected by the electronics in the screen, which then sends a signal to the computer that an action has been performed.
The Benefits of Touchscreen Desktops
The benefits of touchscreen desktops are many and varied. For one, they offer a more intuitive way to interact with your computer. Rather than using a mouse or trackpad, you can simply touch the screen to navigate. This can be especially helpful if you're working with design or photo-editing software, as you can more easily select and manipulate objects on the screen.
Touchscreen desktops also tend to be more compact than traditional desktop computers, making them ideal for small spaces. And since they don't require a separate keyboard and mouse, they can be less cluttered on your desk.
Another benefit of touchscreen desktops is that they often come with built-in sensors that allow you to interact with them in new and innovative ways. For example, some models come with pressure-sensitive screens that let you draw or write on them just like you would on paper. Or if you're looking for a more hands-free experience, there are even some all-in-one touchscreen computers that come with voice-control capabilities.
The drawbacks of touchscreen desktops
There are several drawbacks of touchscreen desktops that have been noted by users. One such drawback is the significantly reduced keyboard and mouse life span. With constant use, the average lifespan of a keyboard or mouse is around 3-5 years. However, with a touchscreen desktop, constant touching and tapping can reduce this lifespan by up to 50%. In addition, the reflective surface of the touchscreen can cause eye strain and headaches for some users. Another potential issue is that fingerprints and smudges can easily build up on the screen, making it difficult to see.
Lastly, touchscreen desktops tend to have higher prices than traditional models. This is due to the additional cost of components required for a touchscreen desktop, such as the digitizer, processor, LCD panel, and touch film. Touchscreen desktops can also be more difficult and time-consuming to set up and configure properly.
Are Touchscreen Desktops the Future of Work?
There is no doubt that touchscreen technology has advanced a lot in the last few years. We've seen it used in everything from smartphones and tablets to gaming consoles and even some appliances. So, it's really not surprising that touchscreen desktops are starting to become more popular as well.
After all, why wouldn't you want the convenience of being able to simply touch your screen to perform various tasks, instead of having to use a mouse or keyboard? Plus, with Windows 10 now supporting touchscreen PCs, it's easier than ever to get started with one.
So, what can you do with a touchscreen desktop? Well, pretty much anything you can do with a regular desktop PC. But there are also some specific applications that are well-suited for touchscreens. For example, you can easily scroll through web pages and documents, flick through photos, and even draw or write on the screen using a stylus.
Whether or not touchscreen desktops will eventually replace traditional PCs remains to be seen. But there's no denying that they offer a unique and convenient way of interacting with your computer. So, if you're looking for something different (and perhaps a bit more futuristic), then a touchscreen desktop may be just what you're after!
Also Read: Reasons To Invest In Customer Experience Management System? 
Conclusion
Touchscreen desktops offer a myriad of benefits to professionals, from increased productivity and creativity to enhanced data security. With the help of advanced technology and hardware, these machines are already revolutionizing workplaces around the world. As more companies look for ways to optimize their workflow, touchscreen desktops have become an increasingly attractive option for many businesses. It is clear that this trend will continue as we move into the future and new technologies emerge that further expand our capabilities in terms of work efficiency.