Marketing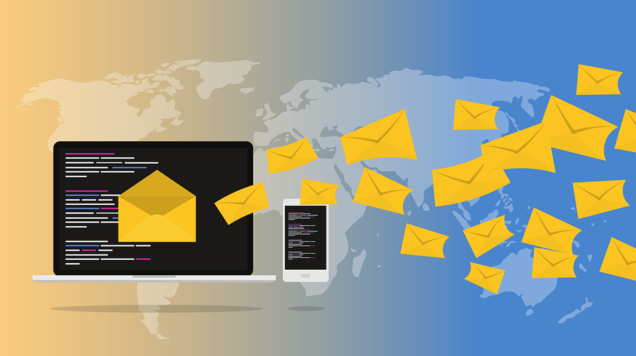 This is How to Write a Kickass Newsletter
Read Time:
5 Minute, 27 Second
Despite what everyone says, email marketing is still quite huge as it offers an ROI of 4,300 percent. Hence, it doesn't come as a surprise that brands spend thousands on creating reliable mailing lists. However, merely having a long list is not enough, your emails or newsletters should be impressive as well.
Before you start writing a newsletter for your brand, you need to put yourself in the shoes of the customer. Which newsletters do you read and which ones do you skip? 
Now compare your answer to the newsletter that you've written for your customers. Does it really stand out?
With over 306 billion emails being sent and received every day, you need to ensure that your newsletter email is the one that is read.
With this requirement in mind, let's take a look at what a well-written newsletter should do:
Give discounts – customers are interested in cheap stuff.

Inform readers – tell about the latest products or happenings.

Solve a problem – highlight an issue your readers face and present a solution.
This, however, is easier said than done. Writing a newsletter is only the first step, your main aim should be to get people to read it and take your desired action. Here's how you can achieve it:
Attention-Grabbing Subject Line
Subject lines matter. Almost 33% of people decide whether or not they should read an email based on the subject line alone. 
The subject line of your email newsletter is what people will notice first. As a general requirement, a subject line should not be any longer than 10 words. 
If you exceed this limit, it will end up being cut off.
Remember, writing an effective subject line is difficult, but once you get in the rhythm, it won't be long before you're writing attention-grabbing subject lines to entice your audience.
Here are some general tips to make your subject lines interesting:
Set a tone of urgency (eg: promo ending soon, first 10 people to visit our website, etc.)

Light-hearted jokes and a few puns can do wonders.

Pique the interest of your customers by asking questions and pairing them with stats (eg: did you know…., every day 1,000 people…. etc)
Design an Email Header
The email header is where you make yourself known to the reader. Whether you go for a subtle tone or a bold one, the email header in your newsletter is the visual identity of your brand. 
The header should have defining features that are consistent with your brand. Customers should be able to identify the sender of the newsletter without even having to look at the email address.
You can, however, customize the header according to the content of the newsletter. But, be careful to not over-clutter it or use fonts that are hard to read.
Go for plain text, and only include important information in the header. 
If designing is not your strongest forte, no need to worry! There are tons of email header templates that you can pick and choose from online. There are both paid and free tools that can help you save time and make your emails look more attractive.
Stick to a Proper Tone
The tone of the email should be in line with the tone on your site. If it's a business newsletter for CEOs and executives then you should ideally remain professional. On the other hand, if it's a newsletter targeting new mothers then you should be more casual.
Use emojis sparingly, keep your sentences short, and insert white space in between paragraphs.
Using shorter sentences is also helpful because a lot of customers skim-read newsletters. Using short sentences, along with bullet points to convey important information can direct their attention towards content that really matters. 
Stay Away From Technical Terms
Don't use technical jargon that nobody understands. 
Show your customers how good your product is through positive reviews and stories of how your product helped someone. Don't tell.
The days of fancy-sounding terms to impress customers are long gone. People are now more conscious about where they spend their money. 
Pitch your products the right way: understand the problems of your customers, and then introduce your product as the solution. Don't make your newsletters too salesy. Don't just ask people to buy. Tell them why they should and entice them by adding a discount offer.
Decide a Schedule and Stick to it
Remember that 61% of customers who sign up for newsletter emails, like to receive them once a week. 
But, it is not a requirement. Set a schedule that you can consistently keep up with. However, remember that every newsletter should offer something to the reader. Don't spam them. Some companies send daily newsletters because they have something new to share every day. 
Even a monthly newsletter may be enough. You can send it on the first of every month or the last. Sticking to a schedule ensures your customers know when to expect an email.
This can help build brand loyalty and (hopefully) keep customers eagerly waiting for the next one. Also, it might be a good idea to ask customers how often they'd like to receive newsletters. Giving users what they want can be a great way to keep them coming back.
End the Newsletter Smartly
You need to end the newsletter email like you would any other email, but with a subtle one-liner that makes the customer anticipate your next newsletter.
Here are a few things to remember:
Add a short summary of what to expect in the next newsletter. You can add a quote from your next newsletter or a small teaser.

Announce a small discount to 'keep an eye out for'. A study into customer psychology revealed that

sales go up by 76%

when a discount is offered. Take full advantage of this and use it to drive customers back to your newsletter ever so often.

Keep the ending note of your email carefully tailored to catch the eye of the customer so that they don't immediately click away from it. You can always find ready-to-use

email marketing

templates to get your campaign up and running smoothly. 
Also Read: Tips To Boost Your Online Business
Conclusion
This is all you need to know about writing kickass newsletters. The key lies in being consistent, coming up with impressive words, and choosing an email template that works well. Try different techniques and see what works.