Security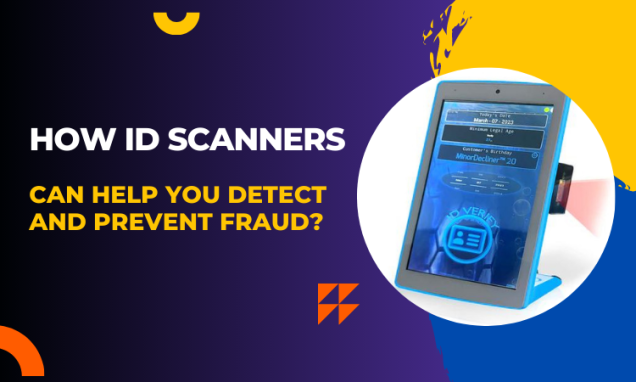 How ID Scanners Can Help You Detect and Prevent Fraud?
Read Time:
4 Minute, 54 Second
Fraud is a persistent threat that businesses face in today's world. Whether it's identity theft, counterfeit documents, or age-related compliance issues, fraud can have serious repercussions on a company's reputation and financial stability. In the quest to combat fraud, ID scanners have emerged as powerful tools for businesses across various industries.
Let's explore how ID scanners can aid in detecting and preventing fraud, ensuring a safer environment for businesses and customers alike.
Understanding ID Scanners:
ID scanners are electronic devices designed to verify the authenticity of identification documents, such as driver's licenses, passports, and ID cards. They come in different types, ranging from handheld devices to integrated systems, each with its own set of features and functionalities. These scanners utilize advanced technology to extract data from IDs and cross-reference them with databases, helping businesses make informed decisions and mitigate fraud risks effectively.
Benefits of ID Scanners in Fraud Detection and Prevention:
ID scanners are invaluable tools in the realm of fraud detection and prevention. These devices offer a range of benefits that aid businesses in safeguarding against fraudulent activities.
From verifying the authenticity of identification documents to ensuring compliance with age-related regulations, ID scanners play a crucial role in protecting businesses from potential fraud risks.
With their comprehensive capabilities, ID scanners are essential for businesses across various industries in combating fraud effectively. Let's check the main benefits in detail:
Verifying the Authenticity of Identification Documents:
ID scanners play a crucial role in identifying counterfeit or altered IDs. By analyzing security features, holograms, and microprinting, these scanners can quickly detect discrepancies and alert businesses to potential fraud attempts. Furthermore, they can also identify stolen or lost IDs, preventing unauthorized individuals from engaging in fraudulent activities.
Age Verification and Compliance with Legal Requirements:
In industries where age restrictions apply, such as bars, clubs, and certain retail sectors, ID scanners are essential for ensuring compliance with legal requirements. By instantly verifying the age of customers, businesses can prevent underage access to age-restricted products or services, such as alcohol or gambling. This capability protects businesses from legal liabilities and fosters a safe environment.
Reducing Manual Errors and Human Bias:
Human error and bias can pose significant risks when manually verifying IDs. ID scanners eliminate these concerns by automating the process. With accurate data extraction and analysis, businesses can rely on the scanner's objective assessment, reducing the chances of subjective mistakes or biased judgments.
Real-time Data Capture and Analysis:
ID scanners provide instantaneous verification and data capture, allowing businesses to make prompt decisions. By integrating with secure databases, they can cross-reference ID information against watchlists, criminal databases, or immigration records, flagging suspicious individuals and enhancing fraud detection capabilities.
Creating an Audit Trail for Accountability:
ID scanners maintain a digital record of scanned IDs, creating an audit trail that serves as evidence of due diligence. In case of fraudulent activities or legal inquiries, this comprehensive documentation can assist businesses in investigations and protect their interests.
Industries that Can Benefit from ID Scanners:
Several industries can benefit from the integration of ID scanners into their operations. Here are a few examples:
Hospitality and Nightlife: Bars, clubs, and hotels can ensure legal drinking age compliance and reduce the risk of fraudulent IDs.
Retail and Age-restricted Sales: Stores selling age-restricted products like tobacco or lottery tickets can prevent underage sales and associated legal issues.
Casinos and Gambling Establishments: ID scanners aid in age verification, identifying banned individuals, and ensuring regulatory compliance within the gambling industry.
Healthcare and Pharmaceuticals: Medical facilities and pharmacies can verify patient identities and prevent prescription fraud or unauthorized access to sensitive information.
Transportation and Travel: Airlines, cruise ships, and transportation providers can use ID scanners to verify passenger identities and enhance security measures.
Tips for Choosing the Right ID Scanner:
When selecting an ID scanner for your business, consider the following factors:
Compatibility with Existing Systems: Ensure the scanner integrates seamlessly with your current software and hardware infrastructure.
Accuracy and Reliability: Look for scanners with high accuracy rates and reliable performance in various lighting conditions and ID types.
Ease of Use and Integration: Choose a user-friendly device that can be easily operated by your staff without extensive training. Additionally, ensure that the scanner integrates smoothly with your existing systems, such as point-of-sale (POS) systems or access control systems.
Important Features to Look for In An ID Scanner Include:
Advanced Scanning Capabilities: Opt for scanners that can read various types of IDs, including magnetic stripe, barcode, and RFID technology. This versatility ensures compatibility with different identification documents.
Database Integration and Timely Software Updates: Select scanners that can seamlessly connect to databases for real-time verification and background checks. Regular updates to these databases are crucial to stay current with changing regulations and emerging fraud patterns.
Robust Security Measures: Prioritize scanners that offer secure data encryption, user authentication, and protection against hacking attempts. Safeguarding sensitive customer information is essential for maintaining trust and compliance.
Also Read: Don't Fall Victim to the WhatsApp Missed Call Scam: Tips from Cybersecurity Experts
Final Words:
In today's business landscape, fraud prevention is paramount. ID scanners provide a powerful solution for businesses across various industries to detect and prevent fraud effectively.
By verifying the authenticity of identification documents, ensuring age compliance, reducing manual errors, and capturing real-time data, these scanners serve as valuable tools in the fight against fraud.
Investing in a reliable ID scanner tailored to your industry's needs can not only protect your business from financial losses but also safeguard your reputation and foster a secure environment for customers.
As technology continues to advance, we can anticipate even more sophisticated ID scanning solutions emerging in the future. Embrace the benefits of ID scanners and stay one step ahead in the battle against fraud. Together, we can create a safer and more trustworthy business environment for everyone involved.