Business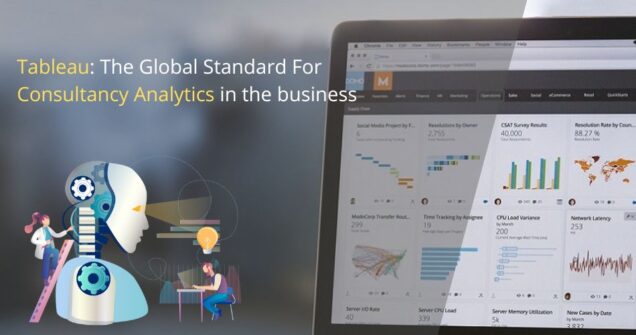 Tableau: The Global Standard for Consultancy Analytics in the business
Read Time:
4 Minute, 6 Second
The process of doing data analysis may be extremely difficult, but at its core, it includes deriving conclusions from databases that are informative and have significant practical importance for businesses.
Over the course of time, data analytics has progressed from the practice of doing a straightforward study of what has previously occurred using Excel to more complex analytics, which makes use of algorithms and machine learning in order to identify patterns and generate forecasts. The purpose of prescriptive analytics is to open up new avenues for businesses to make use of the data they already have by offering suggestions that are based on previously discovered patterns.
Many businesses are discovering that there is a significant amount of value in incorporating and evaluating their first-party information (i.e., information that has already owned) with third-party data (i.e., data obtained externally) in order to more precisely supervise and anticipate future trends in customer behavior by utilizing data scientific knowledge and artificial intelligence (AI).
When businesses make the decision to engage in data analytics, they are not just purchasing the newest thing on the market. They are in the process of successfully changing their company by providing themselves with the appropriate tools, the most relevant datasets, and the essential skills to find actionable insights that have the potential to drive growth and result in a competitive edge.
What do tableau consultants do?
Tableau is the data platform that is considered to be the mainstream technology for companies that provide consulting services. This is due to the fact that Tableau provides quick analytics that consultants enjoy using, a trust-worthy framework to unleash client data and commercialize solutions, and the largest audience in the industry.
Finding solutions to all of the problems that crop up as a result of implementing an all-encompassing data analytics strategy might seem like venturing into unfamiliar terrain at times. What kinds of things do you do to be ready for the trip? You may hire a tableau consultant or an expert companion to accompany you on your expedition and act as a guide for you. Tableau satisfies the criteria for your customer in terms of security, governance, data management, and deployment. Tableau software consulting services provide customers with a reliable approach for constructing data cultures.
Tableau Public is an excellent forum for showcasing your work and is provided by Tableau as a useful resource. They make certain that you are an active part of the Tableau Community, which is a fantastic opportunity to grow your expertise and demonstrate it to others. Additionally, it is utilized extensively by end customers of Tableau, and you never know what kinds of possibilities may present themselves.
You should now have a better idea of the hurdles involved in implementing a data analytics methodology throughout the whole of your firm. The primary responsibilities of a Tableau developer, Analyst, or Advisor include the following:
Comprehending the Needs of the Business, the Data That Is Available, and the KPIs
Placing Key Performance Indicators in order of importance and building Dashboards
Establishing a link to the data (it might have data cleaning and modeling)
Creating several types of dashboards
Putting documents on the server for publication
Allowing people to get access
Setting up a schedule for the report on the server
Creating documentation of previously prepared workbooks for the purposes of data governance and reporting on data lineage
Providing training for business users on how to utilize the dashboard
Adhoc adjustments
Tableau is supporting specialists in keeping positive and informed despite a large amount of data.
The effectiveness of communication for your audiences may be improved with the use of tableau data visualization, which also shows the findings of data analysis in the most convincing way. It brings the communications systems of the many groups and areas within the company together into a unified whole.
Through the use of tableau large volumes of data may be comprehended quickly and in a more efficient manner. It helps to understand the data better so that the effect of the data on the company can be measured, and it conveys the insight graphically to audiences both within and outside of the organization.
In the absence of relevant information, decisions can't be made. Decision-makers now have access to more data and insights, which enables them to help in decision analysis. Access to the appropriate sort of information and visualization, which may then accurately portray that information and ensure that it remains relevant, is made possible by the collection of data that is objective and free of errors.
Tableau Software Consulting has the ability to provide solutions to a wide variety of business problems. Every company has to use these tools in order to realize the game-changing advantages that these tools provide in their most important areas of operation.
Also Read: What Are Interest Rates And How High Do You Think They Can Go?