Education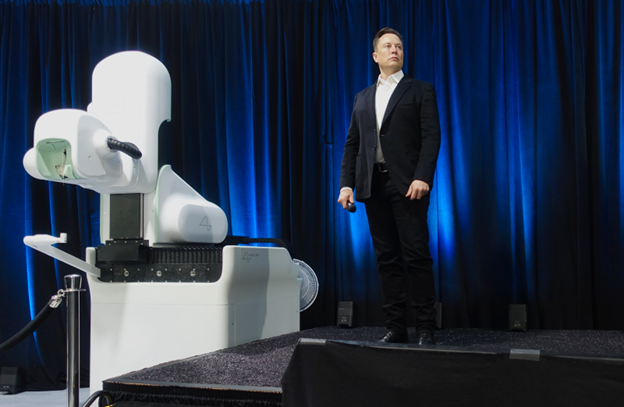 The Future of Brain Implants: Elon Musk's Neuralink Clears Human Testing Stage
Read Time:
3 Minute, 46 Second
Introduction
Elon Musk's Neuralink, a pioneering neurotechnology company, has received clearance to embark on human testing of its groundbreaking brain implants. This development marks a significant milestone in the field of brain-computer interfaces (BCIs), with potential implications for medical treatments and human augmentation. As Neuralink advances towards real-world applications, the possibilities for enhancing human cognition and addressing neurological disorders seem within reach.
How Does Neuralink Work?
Neuralink Works By Implanting a Small Device Called The "Link" :

Neuralink works by implanting a small device called the "Link" into the brain through a minimally invasive surgical procedure. The Link consists of a matrix of ultra-thin electrodes that can detect and stimulate brain activity. These electrodes are designed to be implanted in specific regions of the brain, depending on the intended application.
The Link Establishes A High-bandwidth Connection With The Brain :

Once implanted, the electrodes of the Link establish a high-bandwidth connection with the brain, allowing for bidirectional communication. They can detect electrical signals generated by neurons and transmit that information to an external device for processing. Similarly, the Link can also deliver electrical stimulation to specific brain regions, potentially modulating neural activity.
The Information Detected By The Electrodes :

The information detected by the electrodes can be decoded and analyzed to interpret the user's intentions or provide feedback. This opens up possibilities for controlling external devices, interacting with computer systems, or even restoring lost sensory functions.
Neuralink Aims To Develop Advanced Algorithms And Software To Interpret And Translate :

Neuralink aims to develop advanced algorithms and software to interpret and translate the neural signals effectively, enabling seamless communication between the brain and external technology.
Neuralink offers several potential benefits:
Treatment Of Neurological Disorders :

Neuralink's brain-machine interface technology holds promise for treating various neurological conditions such as Parkinson's disease, epilepsy, and spinal cord injuries. By providing precise stimulation or modulation of neural activity, Neuralink could potentially restore lost functionality or alleviate symptoms.
Enhanced Cognitive Abilities :

Neuralink has the potential to augment human cognition by allowing direct communication between the brain and computers. This could enable faster information processing, memory enhancement, and improved learning capabilities.
Assistive technology :

Individuals with disabilities could benefit from Neuralink by gaining control over external devices, such as prosthetic limbs or assistive robotics, through their thoughts alone. This technology could greatly enhance the quality of life for people with limited mobility.
Advancements In AI :

By merging human intelligence with AI, Neuralink envisions creating a symbiotic relationship between humans and machines. This could accelerate advancements in AI technology and enable humans to keep pace with its development.
Neuralink also comes with potential risks that need to be carefully considered
Surgical Risks :

The implantation of the Link device into the brain involves a surgical procedure, which carries inherent risks such as infection, bleeding, or damage to surrounding brain tissue. Minimizing these risks and ensuring the safety of the procedure is of utmost importance.
Long-term Safety :

The long-term effects of having an implantable device in the brain are not yet fully understood. It is crucial to thoroughly assess the potential risks of chronic inflammation, tissue damage, or immune response over an extended period.
Privacy And Security :

A brain-machine interface raises concerns about the privacy and security of neural data. Safeguarding the information transmitted and received by Neuralink devices from unauthorized access or misuse is a significant challenge.
Ethical Implications :

The ethical considerations surrounding brain-machine interfaces are complex. Questions about informed consent, autonomy, potential misuse, and equitable access to the technology need to be carefully addressed.
Unintended Consequences :

The introduction of Neuralink and the integration of human intelligence with AI systems may have unforeseen consequences on social, economic, and cultural aspects of society. It is essential to anticipate and mitigate any unintended impacts.
Dependency On Technology :

Over Reliance on brain-machine interfaces could lead to a potential loss of individual autonomy, as well as a widening gap between those who have access to the technology and those who do not.
Also Read: Biggest Announcements from Apple's WWDC 2023 Event
Conclusion
Elon Musk's Neuralink has been granted permission to conduct human testing of the future of brain implants, opening doors to a new era of brain-computer interfaces. This milestone brings us closer to the potential benefits of restoring neurological functions, treating disorders, and augmenting human capabilities. While challenges and concerns remain, the potential long-term impact on healthcare and human evolution is promising.