Fashion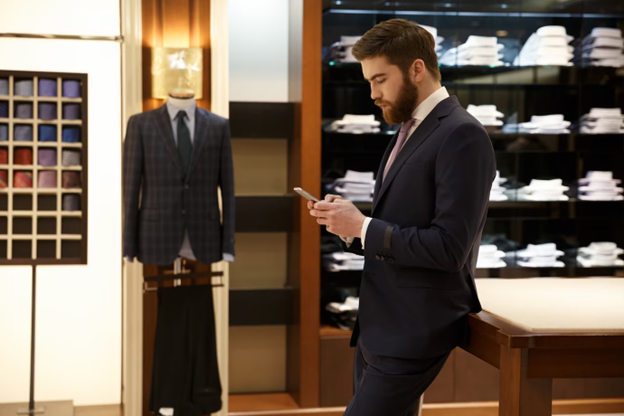 Unlock a New Fashion Frontier: Embrace the Power of Silhouette in Transforming Your Appearance
Read Time:
4 Minute, 57 Second
Introduction to Silhouettes in Menswear
Silhouettes have the power to completely transform your appearance, enhancing your best features and camouflaging any areas you may be self-conscious about. From tailored suits to casual streetwear, mastering the art of silhouette selection can elevate your style game to new heights. In this blog post, we'll delve into the fascinating realm of menswear silhouettes. We'll explore different types and their benefits, discuss how to choose the perfect silhouette for your body type, unravel the magic behind accessories in transforming your look, and even reveal some tips on creating impactful color combinations with prints.
Different Types of Silhouettes and Their Benefits
Silhouettes play a crucial role in menswear, as they have the power to transform your appearance and enhance your style. Various types of menswear silhouettes offer different benefits depending on your body type and personal preferences.
The Slim Fit:

One popular silhouette is the slim fit. This style hugs the body closely, creating a sleek and tailored look. It works well for men with lean frames or those who prefer a more fitted aesthetic. The slim fit silhouette accentuates your natural shape while still allowing freedom of movement.
Regular or Straight-fit Silhouette:

On the other hand, if you're looking for a more relaxed and casual vibe, consider opting for a regular or straight-fit silhouette. This style provides comfort without compromising on style. It suits most body types and offers versatility when it comes to pairing with different pieces.
The Oversized or Relaxed Fit Silhouette:

For those who desire an effortlessly cool look, the oversized or relaxed fit silhouette is perfect. This trend has gained popularity in recent years and allows for comfortable yet fashionable outfits. It's ideal for men who want to embrace a laid-back feel while making a fashion statement.
Unconventional Silhouettes:

If you want to add some flair to your wardrobe, try experimenting with unconventional silhouettes such as drop-crotch pants or wide-legged trousers. These unique styles can give you an edgy and distinctive look that sets you apart from the crowd.
How to Choose the Right Silhouette for Your Body Type
When it comes to choosing the right silhouette for your body type, understanding your proportions is key. Every individual has a unique physique, and finding the silhouette that flatters you can make all the difference in enhancing your appearance.
Consider Your Body Shape:

Consider your body shape. Are you more of an athletic build with broad shoulders and a narrow waist? Or do you have a fuller figure with wider hips? Identifying these characteristics will help guide you toward silhouettes that accentuate your best features.
For Those with an Athletic Build:

For those with an athletic build, structured silhouettes such as tailored suits or jackets can create a more defined look. Opt for pieces that nip in at the waist to create balance and showcase your V-shaped physique.
For Fuller figure:

On the other hand, if you have a fuller figure, opting for looser silhouettes like flowy shirts or relaxed-fit pants can provide comfort while still looking stylish. Avoid overly tight or clingy fabrics that may highlight areas you'd rather downplay.
Personal Style:

Personal style also plays a role in selecting the right silhouette for yourself. Experimenting with different styles and cuts is part of fashion's fun! Remember that confidence is key – wear what makes you feel comfortable and proud of who you are.
The Power of Accessories in Transforming Your Look
Accessories are like magic spells that can instantly transform your outfit from ordinary to extraordinary. They have the power to elevate your look, add personality, and make a statement. Whether it's a sleek watch, a stylish belt, or a vibrant pocket square, accessories are the key to unlocking endless possibilities in menswear.
Tie:

One of the most versatile accessories for men is the tie. A well-chosen tie can completely change the vibe of an outfit. Opt for a bold pattern or color to inject some personality into your ensemble, or go for a classic solid-colored tie for a more sophisticated look. Don't be afraid to experiment with different knot styles too – they can subtly alter the shape of your neckline and enhance your overall silhouette.
Belt:

Another accessory that shouldn't be overlooked is the belt. Not only does it hold up your pants, but it also adds structure and definition to your waistline. Choose a belt that complements both your trousers and shoes in terms of color and style. A slim leather belt can create a polished and refined appearance, while a wider canvas one can add some casual flair.
Wristwatches:

Wristwatches may seem like mere timekeeping devices, but they serve as much more than that in menswear. A well-crafted watch not only tells others you value punctuality but also acts as an extension of personal style on your wrist. From sleek minimalist designs to chunky statement pieces with intricate dials, there's bound to be something out there that resonates with you.
Pocket Squares or Lapel Pins:

Don't forget about smaller details like pocket squares or lapel pins either. These tiny accents pack quite the punch when it comes to transforming an outfit from ordinary to exceptional. Experiment with different colors and patterns – mix solids with prints or go monochromatic for added sophistication.
Also Read: Ring Watch Guide – What Are Ring Watches And Why Are They Fashionable?
Conclusion
Embracing the power of silhouette in menswear is like unlocking a new fashion frontier. By understanding the different types of silhouettes and how they can complement your body type, you can transform your appearance and exude confidence. When it comes to choosing the right silhouette for your body type, remember to consider proportion and balance. Whether you opt for a slim fit or a more relaxed cut, finding the perfect fit will enhance your overall look.