Technology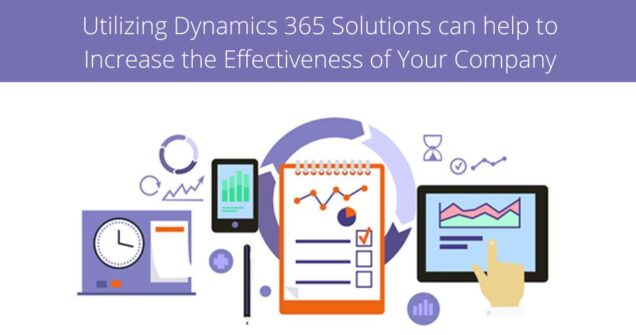 Utilizing Dynamics 365 Solutions can help to Increase the Effectiveness of Your Company
Read Time:
3 Minute, 37 Second
Because COVID-19 has generated an uncertain economic scenario, it is now more necessary than it has ever been to make sure that all of your financial procedures are as effective as they possibly can be. Thankfully, Microsoft Dynamics 365 is capable of assisting your company in accomplishing just that goal.
Microsoft Dynamics 365 Finance helps organizations cut down on manual procedures by embracing the power of artificial intelligence (AI), gaining access to intuitive advice, and reducing the likelihood of human mistakes. This enables you to concentrate on what really makes a difference in your company.
In this article, we take a deeper look at Dynamics 356 development solutions and investigate how it may have an effect for your company throughout any challenging circumstances. In particular, we focus on how it can help your company stay afloat. The dynamic solution has the expertise as well as the experience that is necessary to supply you with the solution that is the absolute best fit for your needs, while also assisting you through each stage of the process.
Minimize operating expenditures
Because it interacts with a variety of data sources, Microsoft Dynamics 365 Finance enables you to rapidly obtain visibility into all aspects of your financial situation, providing you with an accurate picture of your company. Controlling your budget, automating your financial processes, and improving your business's analytical capabilities are just some of the ways that Microsoft Dynamics 365 Finance can make running your company simpler.
Combine financial procedures
There are a lot of advantages for your company that comes from consolidating all of your financial procedures and data into a single platform. This is something that Microsoft Dynamics 365 Finance handles very effectively, giving your company the ability to:
Easily adjust to new needs – Having the ability to personalize papers as and when they are required is essential for running an effective business, particularly in light of the present environment. You are able to simply alter invoices and statements to ensure that they have aligned with any changes to your company thanks to the interface between Microsoft Dynamics 365 Finance and Microsoft Office 365.
Raise your level of productivity – You will be able to establish priorities and automate financial duties if you make use of predicted insights and workspaces that are based on roles. This not only helps enhance production, but it also frees up crucial time for all of the members of your team.
Get the most out of an economy built on subscriptions – This is a reference to the transition that a large number of businesses are making toward a style of operation that incorporates regular invoicing. Microsoft Dynamics 365 Finance features options for automated billing, which enables your company to conform to revenue recognition requirements, cut auditing expenses, properly calculate and report on financial statements, and more.
Integrate CRM solution
When Dynamics 356 solutions Business Central is implemented, a great deal of functionality is consolidated into a single platform. Because of this, your staff will spend less time researching inquiries for their customers, less time transferring between systems, and less time chasing down payments and invoices, which will contribute to an overall boost in the effectiveness of your business's operations.
Enhance the quality of Benefits
While the supply-chain analysis will almost certainly reveal wasted cash for your organization, it will also evaluate the level of care provided to your staff and the expenses connected with that level of care. Because of this degree of openness, workers are given the ability to make choices that are better for their health while also reducing the amount of money they have to pay out of pocket. Your company should have a competitive edge as a result of a benefits package that has been carefully developed in order to raise employee retention rates, improve productivity, and attract top talent for your staff.
Also Read: How to Easily Start a Blog on Facebook for Beginners
Bottom line
Therefore, Dynamics 356 solutions may be able to resolve these issues, but only if you first determine which processes inside your organization need to be improved before choosing an ERP system. If you start the ERP project by defining your company's long-term objectives, you will increase the likelihood that you will realize business gains that are directly tied to increased operational efficiency.